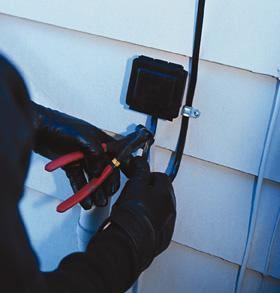 We have a wide range of services to meet your security needsand budget. We provide a free security evaluation of your needs by a trained, experienced Security Advisor, please call us to schedule your appointment.Maximum Security Can Provide:
Security systems for homes and businesses
Free conversions of most existing alarm systems
Commercial fire alarm systems, including sprinkler system waterflow monitoring
Residential smoke and carbon monoxide detection systems
Camera systems, including the ability to view the activity at your business or home from any location in the world.
With our exclusive SecureMax® monitoring, you don't even need a phone line for your alarm system. Ask us about this cost-saving, high security service available only from Maximum Security.We accept VISA, MasterCard, American Express and Discover credit cards, making it easy to budget your security purchase. Maximum Security also offers 24 to 60 month residential and commercial leases. For example, with a lease, you can have a top quality surveillance camera system starting at about $ 4 per day. Ask us about how a lease can make any security purchase easy to afford.